Our 14-18 Group meets every Friday from 6pm-8:30pm in Room A-1.
Our 18+ Young Adult group meet every Wednesday 8p-9pm after Mass in room A-1.
There is a Youth Mass every second Friday of the month at 7pm
The Archangels of St. Jude Youth Ministry won $500 sponsored by The Gulf Coast Community Foundation and The Observer in a volunteers contest by submitting a picture of the volunteers.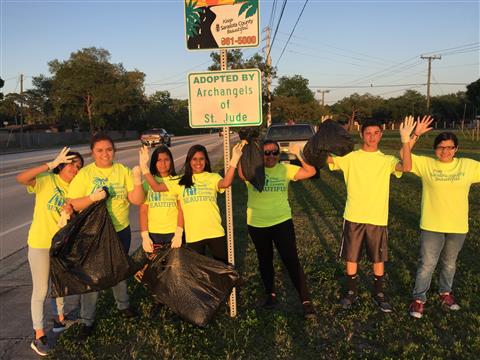 St. Jude Catholic Church Youth Group maintains a portion of 17th Street as part of the "Adopt-a-Road" initiative. The teenagers, known as "Archangels," clean their assigned area on 17th Street to "Keep Sarasota County Beautiful." The Group of over 100 members takes turns beautifying the area.
Steubenville Orlando Youth Conference 2016